Spraying - F.E.P.A. PA1 Foundation course.
A one day course for those who wishing to gain the NPTC PA 1, safe use and handling certificate of competency. Foundation module.
Instructor: Various
Cost: £100 per person. Does not include NPTC certification. For NPTC price see assessment price list
Venue: Marsh Hill Centre or client own venue
Maximum Trainees: 12 trainees.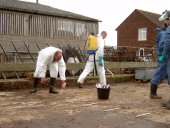 Course Aims: To develop knowledge covering the requirements of current legislation Learn how to use pesticides appropriately and safely and keep proper records Understand how to store pesticides correctly Learn how to clean equipment and dispose of unwanted pesticides and containers Cover procedures for dealing with contamination and poisoning incidents.
Who is the Course for ? :This course is a must for all those employed in agriculture or commercial horticulture who are involved in the storage, handling and application of pesticides. Course members should be able to read. A code of practice specifies the knowledge and skills required of a competent operator. NRoSO points available.
Where does the course lead?: This course leads to the NPTC assessment PA 1 foundation assessment, and is a pre request for any application module.
Date of next course:
20th January 2020
24th February
23rd March
For any in-house dates please contact us.
To book your place on a course, or for more information, simply contact us.
Back to Landbased Courses