Basic Meat cutting
A one day course which teaches the basic principles of cutting meat. Lamb and or  pork cutting will be demonstrated, and delegates will have the opportunity to prepare a carcass themselves.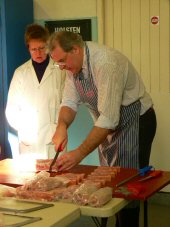 ---
Course prerequisite: None
Certificating Body: Vale Training attendance certificate.
Course Length: 1 day
Course Times: 9.30am to 4.00pm or to suit client.
Instructor: Various
Cost: £140 + VAT + Meat per delegate - Day rate on application to suit client

Venue: Marsh Hill Centre, Marsh, Aylesbury. HP17 8ST or to suit client
Maximum Trainees: 4-6
At the end of the course, participants will be able to:
· Recognise the primal cuts of beef, lamb & pork carcasses
· Be able to cut pork & lamb carcasses to a basic retails standard (beef to be covered in cutting beef
· Cost profitably and commercially for each carcass