Climbing and Aerial Rescue NPTC unit 0040-13 (CS38) (CS0966)
Instructor: various
Cost: £570 per person + certification This does not include NPTC assessment
Certification:Lantra and NPTC
Requrements: None
Venue: Various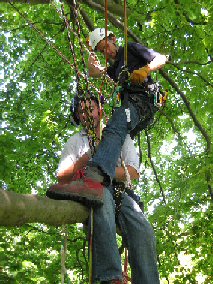 Maximum Trainees: 4
Duration: 5 days
The course will cover the following:
Identification and checking of equipment necessary for tree climbing
Tie rope climbing knots and prepare straps
Identification of possible hazards to clothing
Entering, ascending and descending trees using safe working techniques
Rescue of an injured climber

Equipment: Please provide the following :- rope and harness (harness should be work positioned type suitable for tree work, with 'CE' mark, have front pelvic attachment with leg loops and side attachments), minimum of 4 karabiners, lanyard, safety equipment, to include footwear and all round leg and groin protection. All equipment must either be new or if older than 6 months be checked under LOLER regulations.
For more information click here to view the City & Guilds NPTC scheme documentation.
Next Steps: Leads on to CS39 (CS0967) (Operate Chainsaw from a Rope and Harness) and CS40(CS0968) (Carrying out Pruning Operations)
To book your place on a course, or for more information, simply contact us.
Other courses in this series include:
Back to Landbased Courses