Advanced Certificate in Food Hygiene
The Chartered Institute of Environmental Health (C.I.E.H.)
This is a six day course designed for senior supervisors and managers in the food industry. Nationally recognised as a top qualification, the course provides a detailed knowledge of a wide range of aspects of food safety and hygiene. Special emphasis is paid to management implementation and delegation.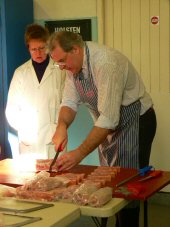 Instructor: Various
Cost: TBC
Venue: Marsh Hill Centre
Maximum Trainees: 12
The course requires a minimum of thirty six hours tuition ( 6 days ) followed by a two and a half hour written examination, the date is set in advance. In addition delegates are required to select two assignments from a list of ten, to be completed in their own time and submitted before examination.
Bacteriology
Food Borne Infections
Physical Food Contamination
Storage and Preservation
Design of Food Premises and Equipment
Hazard Analysis
Education and Training of Food Handlers
Non-Bacterial Food Poisoning
Personal Hygiene
Pest Control
Construction of Premises
Cleaning and Disinfection
Food Safety Legislation
Date of next course: On Application
To book your place on a course, or for more information, simply contact us.
Back to Landbased Courses