Ploughing
This is a one day practical course which allows trainees to gain knowledge of how to maintain and use a plough correctly.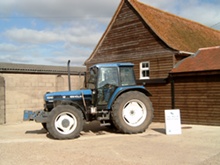 Instructor: Craig Ireland
Cost: T.B.C.
Venue: Marsh Hill Centre
Maximum Trainees: 6
The course is aimed at improving the technique and output of the trainee, by enabling them to get more out of their tractor and plough combination and thus improving the quality of their work. Participants will also be familariesed with large multifurrow ploughs. The content of the course will be based around:
Plough preparation
Ploughing standards
Optimum tractor and plough operational procedures
Coping with field variables while ploughing
Efficient systems of ploughing a field
Date of next course: On Application
To book your place on a course, or for more information, simply contact us.
Back to Landbased Courses