Sausage Making
A one day course covering the preparing, filling and linking of a range of sausages; formulating recipes; understanding the concept of 'added value' in sausage manufacture and understanding the legal requirements. A Highly practical and enjoyable course.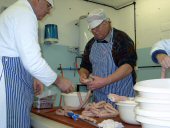 ---
Course prerequisite: None
Certificating Body: Vale Training attendance certificate.
Course Length: 1 day
Course Times: 9.30am to 4.00pm or to suit client.
Instructor: Various
Cost: £140 + VAT . This is then the delegates to take away
Venue: Marsh Hill Centre, Marsh, Aylesbury. HP17 8ST or to suit client
Maximum Trainees: 4-6
At the end of the course, participants will be able to:
Understand the legislation of selling and marketing products

Selecting the correct equipment for you

Select the correct cuts of meat for sausages

Prepare the meat for sausage production

Select the correct additives for your sausages and the proportions to use them in.

Make and link sausages

Explore different flavouring to go with you chosen meat.