Chainsaw - Maintenance and Operation CS30 (CS0960)
Lantra or N.P.T.C. Certification
A two day course on the maintenance and use of a chainsaw. This course helps you to make better use of your chainsaw and advises on safety equipment. The course leads to N.P.T.C. assessment and certification Unit 30. The course does not include the N.P.T.C. Assessment fee.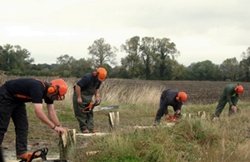 Instructor: Various
Cost: £265 + VAT including Lantra assessment & Certification. Does not include NPTC certification. For NPTC price see assessment price list
Venue: Marsh Hill Centre or clients own site
Maximum Trainees: 4
Duration: 2 days
Requirements: none
Equipment:Please ask for list
With proper maintenance of your chainsaw, a long life can be had from it. Safe operation can prolong the life of you and others around you. Both the maintance and operation therefore are of upmost importance. In this course you will learn how to keep your chainsaw in tip top condition and learn how to use it safely.
For more information click here to view the City & Guilds NPTC scheme documentation.
Date of next course: <
30th & 31st January
1st & 2nd Feb
13th & 14th February
19th & 20th March
11th & 12th April
25th & 26th April
2nd & 3rd May
Other dates are available on enquiry
Please enquire availability in the office.
In house dates available on application
Assessments: Lantra assessments are taken during the two days of training. NPTC unit are taken after the course by independent assessors. Please note that NPTC assessment dates will be given to you at the time of booking training. Should these be changed, a surcharge will be made.
Next steps: NPTC unit CS31 (CS0961)
To book your place on a course, or for more information, simply contact us.
Other courses in this series include:
Back to Landbased Courses