Using a Chainsaw from a Rope & Harness CS39 (CS0967)
Lantra and N.P.T.C. Certification
A three day course which examines the climbing techniques required when operating a chainsaw in a tree and the range of cutting techniques required. The course leads to N.P.T.C. accredited units CS 39.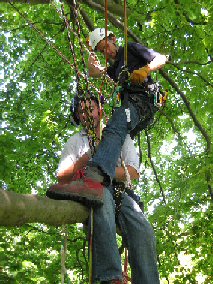 Instructor: Various
Cost: £340 per person + certification.Does not include NPTC certification. For NPTC price see assessment price list
Venue: Various
Maximum Trainees: 4
Duration: 3 days
Please contact us if you are interested in acquiring dates.
To book your place on a course, or for more information, simply contact us.
Requirements: CS30 (CS0960), CS31 (CS0961) CS37 and CS38 (CS0966)
Equipment: Click here for Equipment list.
Leads to NPTC unit 39

The course will cover the following:
Identification of climbing hazards, both in and around the tree
Use of ladders, rope and harness to achieve safe working positions in a tree
Different types of climbing systems - direct stropping techniques, knots, prussic loop, etc
Use of handsaws and chainsaws while suspended by rope and harness within the tree
Branch removal and target pruning using appropriate cuts
For more information click here to view the City & Guilds NPTC scheme documentation.
Other courses in this series include: